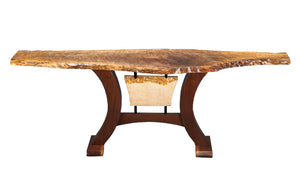 Measurements 
---
About the Solomon's Live Edge Entry Table
Surely anyone lucky enough to own the Solomon's table is blessed! Each of these artistic  entry/sofa tables is a one of a kind. We hand select the wood to use on the top and the medallion. We only choose pieces that are unique and eye catching (that's why height and width vary). Note: If you want an exact size, just let us know.
The live edge Solomon's entry/hall table shown features a birdseye walnut live edge top, walnut wood, and black dowels.
Contact us directly to see what specialty wood is available for the top of your Solomon's table, or if you want a piece inspired by the design. 
Don't see the color, size, or option you want? Call, txt 814-661-0188, email info@bestofipdesigns.com to order!